Self Service Password Reset (SSPR) is a tool provided by Microsoft that allow you to recover a user account that is currently inaccessible.  The two situations in which an account can be recovered is when you need to reset your password and/or your account has been locked due to a password conflict such as entering an incorrect password too many times.
Reset your password or unlock your account
Before you are able to use SSPR to recover your account you will need to begin by registering the Microsoft Authenticator app as well as your phone.  For registering please go here.  Once you are registered for SSPR you can now use it to reset your password or to unlock your account.  To do so follow the below steps.
Open the web browser on your device and navigate to https://passwordreset.microsoftonline.com. You can also use the Password Reset link in the Desktop Application Launcher.
Use your Mount Sinai or School of Medicine email address as your username to log in. If you only have a username please enter it followed by @mountsinai.org or @mssm.edu.  Example:  doej00@mountsinai.org.
You will also be presented with a picture and asked to enter those characters in order to proceed.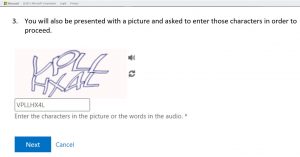 You will be presented with the options to either reset your password by selecting "I forgot my password", in which case continue to the next step, or to unlock your account by selecting "I know my password, but still can't sign in" which continues from step 9.
You will be presented with the verification options that you registered. You will only need to use one.

Enter a code from my authenticator app – enter the one-time password code from Microsoft Authenticator.
Answer Security Questions – Provide the answer to three of the five questions that you set up at the time of registration. (Slated to be removed at a date yet to be determined)
Enter the requested information which replicates, in part, the steps you took to register your phone and Microsoft Authenticator.
Once you complete the verification steps you will be asked to enter your new password twice. Click Finish to complete the reset.
If you selected "I know my password, but still can't sign in" you will go through the verification steps as in resetting your password. Once you complete the verification steps your account will be unlocked.